As the global landscape rapidly evolves, educators and parents alike understand the significance of equipping children with the tools they'll need to navigate the world.
This idea is encapsulated by the term "21st-century skills," which encompasses everything from digital literacy to creative problem-solving.
But when we talk about preschoolers, is it too early to start teaching these complex-sounding concepts?
Absolutely not!
In fact, when we strip away the latest buzzwords and intimidating acronyms like STEAM (Science, Technology, Engineering, Art, and Mathematics), we're left with basic and fundamental ideas that are completely within a preschooler's grasp.
The core of this perspective is straightforward: STEAM for preschoolers doesn't have to be complicated.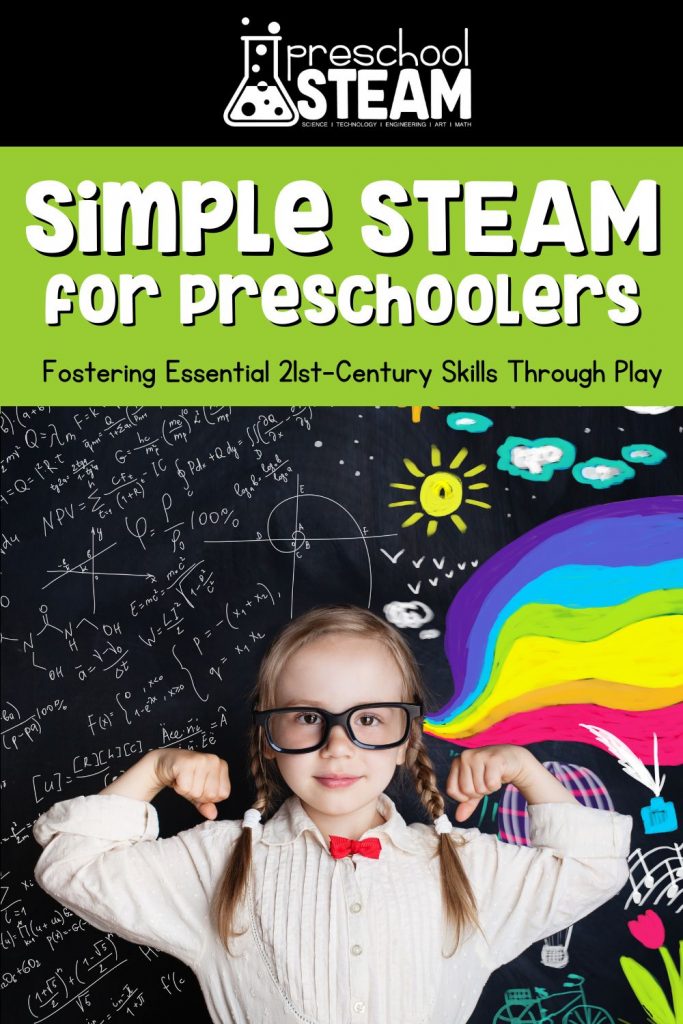 Understanding Through Simplicity
Preschoolers are naturally curious. They have the ability to wonder, question, and explore. They don't require vast, complex setups or expensive technology to learn.
Often, their most profound learning moments come from simple play-based activities.
Building a tower from blocks, for instance, integrates concepts of balance, weight, and geometry – a gentle introduction to engineering.
The 21st-Century Preschool Classroom
What do you picture in the "21st-Century Preschool Classroom"?
This image might bring to mind rows of toddlers on computers or engaging in sophisticated scientific experiments. But it's quite the opposite.
The ideal classroom for fostering 21st-century skills is filled with simple, interactive, and tactile materials that spark curioisty.
It's an environment that encourages curiosity, facilitates hands-on learning, and provides opportunities for creative expression and allows space for movement.
The environment is flexible. It grows along the side of its learners.
5-Star STEAM Experiences
"5-Star experiences" are learning activities that foster:
Curiosity: It's the spark that drives discovery.
Communication: Sharing ideas and feelings, and understanding others.
Collaboration: Working together, learning teamwork and understanding compromise.
Critical Thinking: Questioning, analyzing, and reflecting on the world around them.
Creative Problem Solving: Finding innovative solutions and building self-confidence.
With the right guidance and environment, even the simplest play can be a 5-Star experience. For example, a casual chat about the weather can prompt questions about why it rains, introducing concepts related to science. Sharing toys fosters collaboration, and deciding what game to play can involve critical thinking.
Let's break down how we can use the 5-Star approach to create engaging play experiences that foster curiosity, communication, collaboration, critical thinking, creative problem-solving, and self-confidence.
1. Curiosity: Wonder is the Beginning of Wisdom
Activity: Nature Walks and Collection Jars
Description: Organize a nature walk within the school premises or a nearby park. Hand each child a collection jar or bag.
Objective: Encourage children to observe and collect interesting objects like leaves, stones, flowers, or bugs.
STEAM Experience: Discussing the different types of objects, their colors, shapes, and sizes fosters an early love for biology and geometry.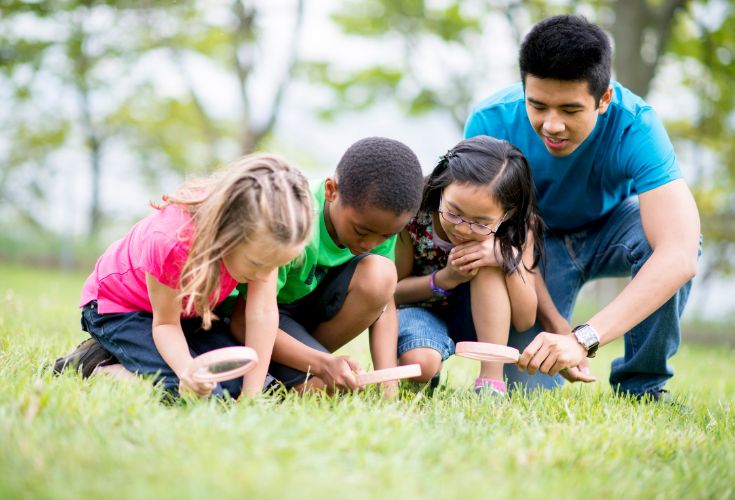 2. Communication: Expressing Ideas and Asking Questions
Activity: Storytelling with DIY Puppets
Description: Use simple materials like paper bags, crayons, and yarn to create basic puppets.
Objective: After crafting their puppets, kids can narrate a story or an incident from their day.
STEAM Experience: This activity integrates art (designing the puppet) and language skills. The act of storytelling encourages kids to articulate ideas and boosts their linguistic abilities.
3. Collaboration: Learning to Work Together
Activity: Bridge Building with Blocks
Description: Provide children with a variety of blocks and challenge them to build a bridge together.
Objective: This group activity requires kids to discuss, share resources, and collectively make decisions.
STEAM Experience: Engineering concepts are introduced as children learn about stability and balance in construction.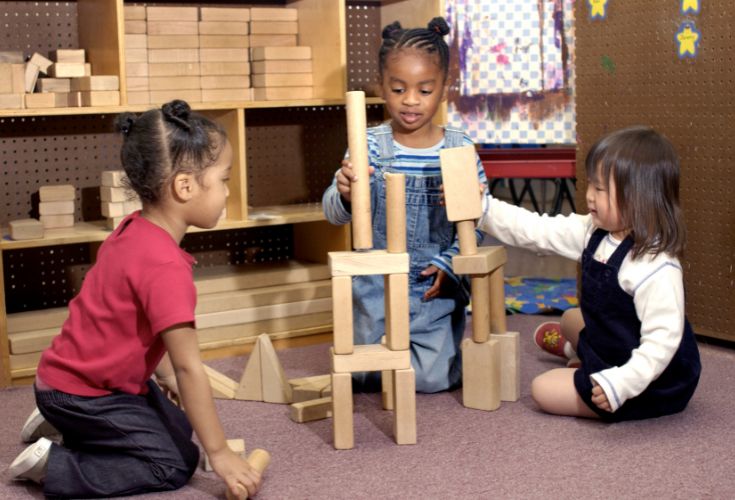 4. Critical Thinking: Question, Analyze, Reflect
Activity: Sink or Float
Description: Fill a large container with water. Provide a selection of objects and ask children to predict which ones will sink and which will float.
Objective: Encourage children to think critically about the properties of each object and hypothesize outcomes.
STEAM Experience: This introduces basic physics principles and encourages hypothesis testing.
5. Creative Problem Solving and Building Self-Confidence: Discovering Potential and Embracing Challenges
Activity: Shadow Art
Description: On a sunny day, take toys or crafted objects outside and place a piece of paper behind them. As the sun casts a shadow, ask children to trace it.
Objective: This fun task requires a creative approach as children learn how to position objects to get the best shadow.
STEAM Experience: Children are introduced to concepts of light and shadow (science) and simultaneously engage in art.
In conclusion, STEAM for preschoolers doesn't have to be complicated.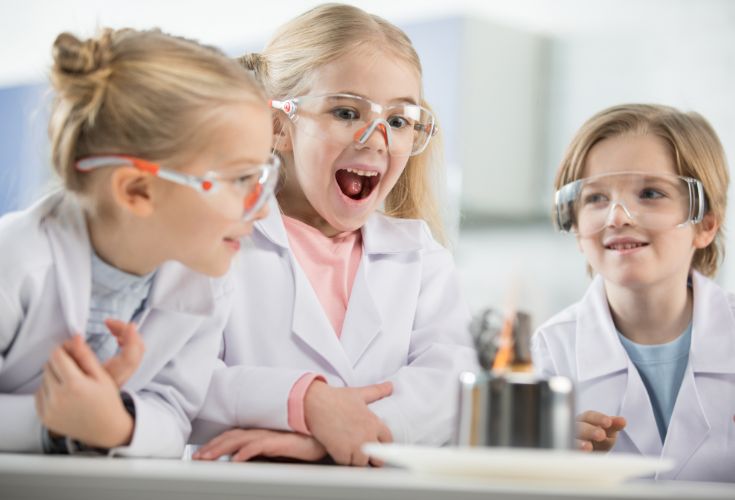 With simple, play-based activities, we can weave essential 21st-century skills into our children's daily experiences. These 5-Star experiences will not only prepare our young learners for future academic endeavors but also foster a lifelong love for learning and discovery.
Lifelong Benefits
As educators and caregivers, our role isn't to overwhelm young learners with information. Instead, our mission is to guide them, with simple tools and experiences, towards understanding the world and their place in it. By embedding STEAM concepts within everyday play, we prepare them not just for academic success but for a lifetime of curiosity, discovery, and growth.
Looking for a roadmap to add more STEAM in early learning?
Discover Preschool STEAM Pathways: Launching 9/1/23
Preschool STEAM Pathways is here to help.
Our subscription-based curriculum offers educators and parents a simple yet effective guide to creating standout STEAM experiences for young learners.
Dive into lessons that nurture curiosity, boost collaboration, and champion creative problem-solving. It's more than just subjects; it's about shaping confident and curious young minds. With Preschool STEAM Pathways, turn every day into a journey of discovery.