Develop fine motor skills plus creativity with this play dough Shape STEAM activity for preschoolers. This hands-on lesson encourages young learners to explore and experiment with making shapes and mixing colors while building their hand strength with play dough.
Fine motor skills are important for young children's development as they help them perform tasks such as writing, buttoning clothes, and cutting with scissors. One fun and creative way to enhance these skills is through the use of play dough. By using different shapes and colors of play dough, young learners can not only improve their fine motor skills but also explore STEAM concepts.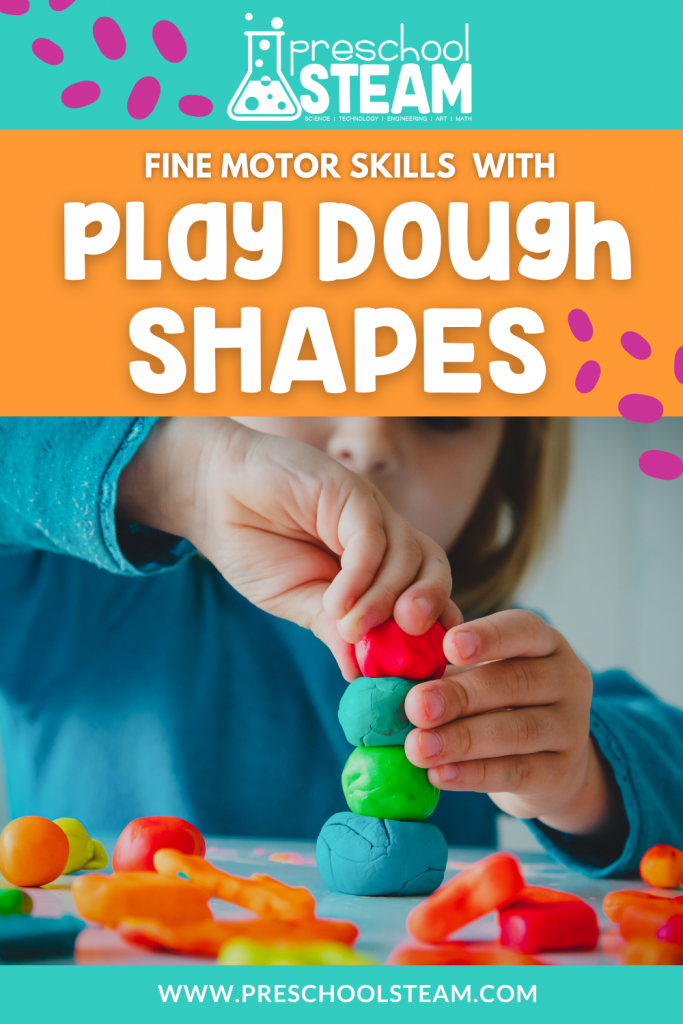 Materials:
Play dough in different colors
Rolling pins
Plastic knives
Cookie cutters in different shapes
Paper plates or trays
Teaching Strategy:
Begin by introducing different shapes and colors to the children. Show them different shapes and ask them to identify them. Then, demonstrate how to use play dough to make shapes and combine different colors to make new colors. Yes, let them mix colors!
Give each child a paper plate or tray and a ball of play dough.
Show them how to roll the play dough into a snake-like shape and then use a plastic knife to cut it into small pieces.
Demonstrate how to use cookie cutters to make different shapes out of the play dough.
Encourage the children to use their imagination and creativity to make their own shapes using the play dough and the tools provided.
Ask the children to identify the colors they are using and encourage them to mix colors to create new ones.
After the children have created their shapes, have them share their creations with the class. Ask them to identify the shapes and colors they used. Encourage them to talk about their process and how they used their fine motor skills to create their shapes.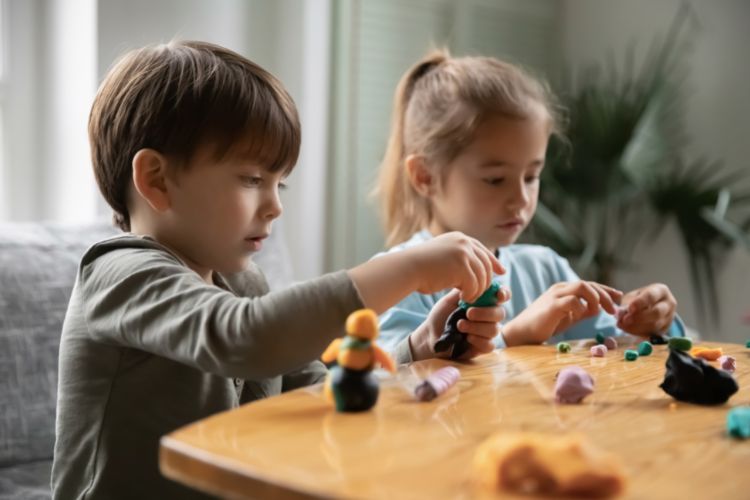 What makes it STEAM?
Science: As children explore different shapes and colors of play dough, they can learn about primary and secondary colors and how they can be combined to make new colors.
Technology: The use of different tools, such as plastic knives and cookie cutters, allows children to explore different ways of manipulating materials. Click here to learn more about the "T" in STEAM
Engineering: Children can use their problem-solving skills to figure out how to create specific shapes or structures with play dough.
Art: The creation of different shapes and colors with play dough is an opportunity for children to express their creativity and imagination.
Math: The use of shapes and colors in play dough can help children develop their spatial reasoning and mathematical concepts.
Young learners can have fun while learning important skills. Not only will they improve their fine motor skills, but they will also develop their creativity, imagination, and problem-solving skills.