Build and stack monsters is a fun and easy STEAM activity for preschoolers that also helps encourage creative thinking and play!
These monsters help develop fine motor skills as your young learners try to stack the different monster body parts.
Follow our tutorial below for our easy step-by-step directions.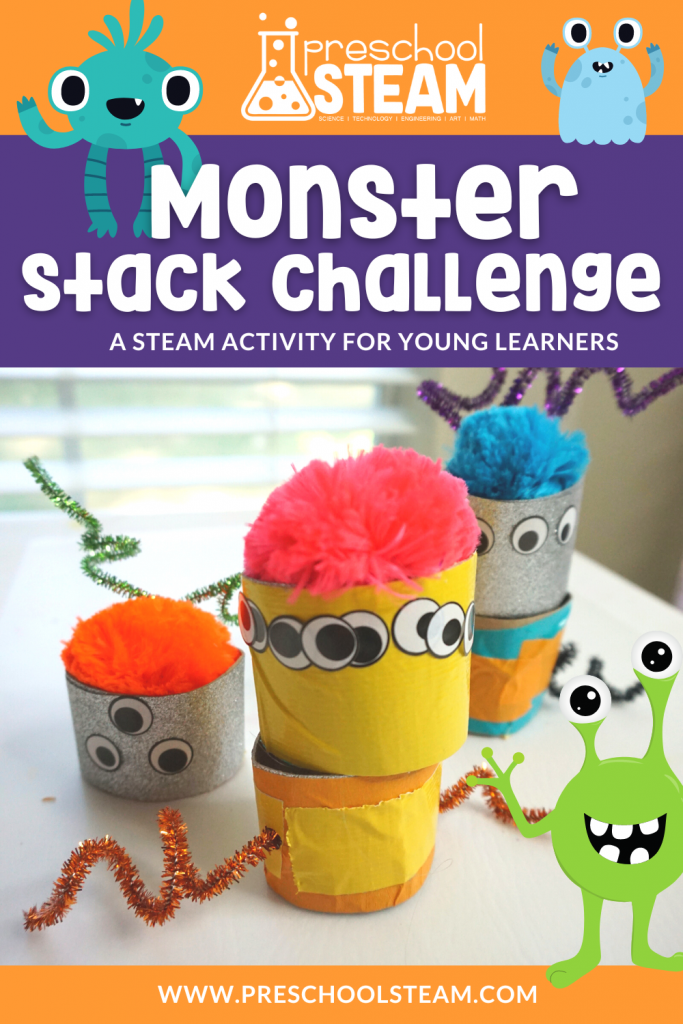 Materials:
Cardboard Tubes
Paint and Permanent Markers
Hole Punch
Pipe Cleaners
Scissors
Googly Eyes
Duct Tape or Washi Tape
Teaching Strategy:
Step 1: Paint your cardboard tubes and allow time for the paint to dry.
Step 2: Cut the tubes into different size sections.
Step 3: Use permanent markers to add detail and color to the painted tubes.
We sorted which tube sections we wanted as heads and which ones as bodies. The heads we decorated with eyes and mouths, while the body sections we decorated with permanent markers and tape or paint.
Step 4: Create hair and arms with pipe cleaners. To create the hair, we took several pipe cleaners folded them in half and twisted the bottom together. We wrapped the ends around a pencil to curl.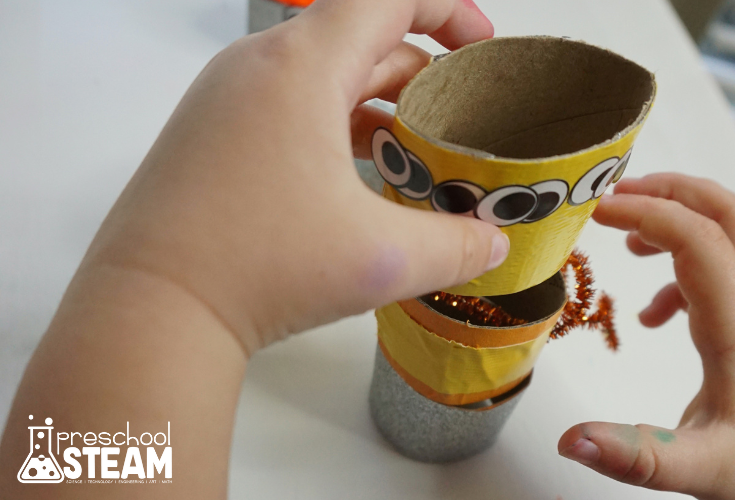 To make the arms, we used a hole punch and punched a hole on each side of the cardboard tube. Slide the pipe cleaner through the holes.
Step 5: Stack and play! Don't be afraid to mix-n-match monster parts.
Extend the STEAM Experience: Turn this easy craft into creative play. Create a story or pretend play with the monsters. Design an environment where your monsters live and play! Give your monster a name or create a new mode of transportation for your monster. The possibilities are endless!
For more Halloween activities, check out our Halloween STEAM Experience Bundle:
What lessons you'll get:
Halloween Sensory Hunt
Bone Tower Challenge
Spooky Shadow House Investigation
Plus, get these bonuses:
STEAM Storytime lesson with Skelly's Halloween
All-access to the MOW (Moments of Wonder) training
Click here to learn more.