We are exploring spiders this week at Preschool STEAM. With Halloween right around the corner we want to share this engaging spider exploration based on the book, "Itsy Bitsy Spider".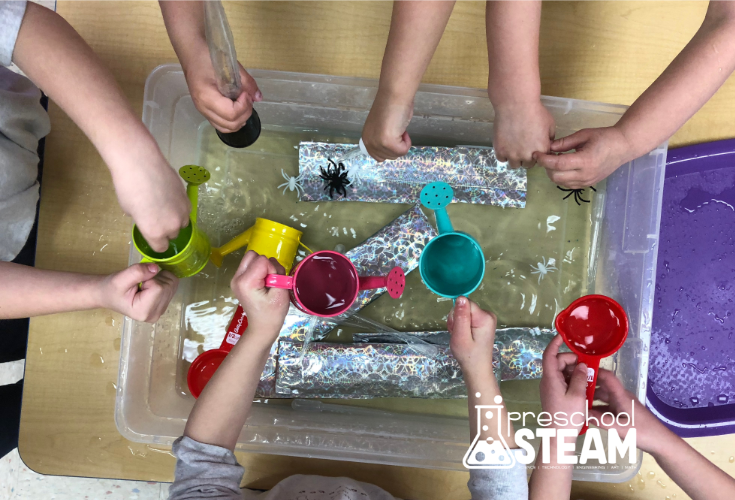 STEAM QUESTION: Can you explore with the Itsy Bitsy Spider?
Objective: Students will explore water, distance, ramps, and height through open-ended play.
Materials:
"Itsy Bitsy Spider", by Constanza Basaluzzo
Water-filled Tub
Plastic spiders
Different sized containers
Piece of rain gutter
Teaching Strategy:
Fill the tub with water and add a piece of rain gutter along with plastic spiders.
Place some containers inside and outside of bin in inviting way for students to explore.
"Read, "Itsy Bitsy Spider" and discuss. Have students join you in singing the song.
Ask students what they know about spiders and learn what they'd like to know about them.
Invite students to explore the sensory bin for open-ended, creative play.
Listen for any observations and encourage them to try different ways to use the water and rain gutter.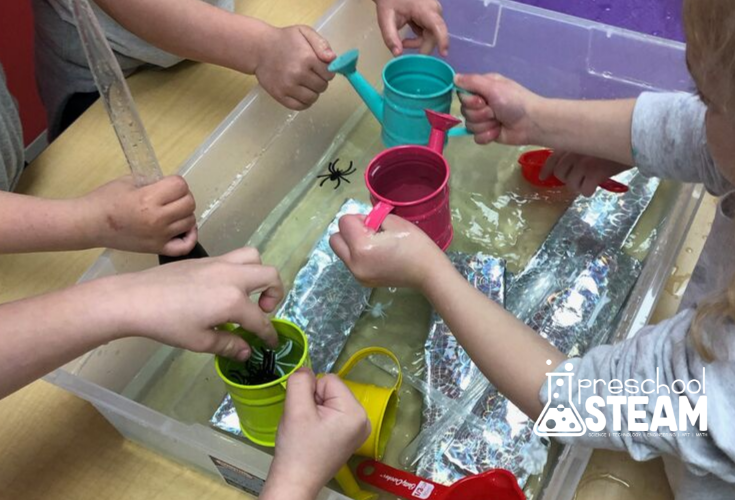 Guiding Questions:
What do you know about spiders?
What do you want to learn about spiders?
What happens if you raise/lower the rain gutter?
STEAM Experience
Science: Research spiders and their habitats.
Technology: Use a computer to look up different versions of Itsy Bitsy Spider.
Engineering: Build a raft for the spider to float safely on.
ARTs: Sculpt a spider from play dough.
Math: Weigh different spider toys to find the lightest and heaviest ones.
The full written lesson is available for download inside the Member Lab.