This Halloween season create an engaging Halloween Tinker Tub™ for young learners to tinker, play and create.
Tinkering encourages preschoolers to build and develop problem-solving skills. Tinker Tubs™ is one of our favorite ways to incorporate STEAM activities for preschoolers. Read below to learn how to create your own and get your own copy of our Halloween challenge cards.
Preschool STEAM Tinker Tubs™
Tinker tubs™ are an easy way to encourage students to problem-solve, play and explore with materials you already have in the classroom.
What is a Tinker Tub™?
A tinker tub is a container with provided materials that encourage children to build, create and design.
Tinker tubs™ give students the opportunity to learn:
how to persevere
how to learn from failure and still try again
how to re-evaluate, redesign and re-think a problem to create a unique and inventive solution.
develop fine motor skills
learn to work collaboratively and share!
How to Get Started with Tinker Tubs™:
Step 1: Choose your tub (or box, or bin)
Step 2: Choose your building materials. Pick and choose from the materials you already have.
Step 3: Let your students tinker and build!
Building Materials Ideas:
Wooden or foam blocks
Cotton Swabs
Colored craft sticks
Halloween straws
Orange, black, white, and purple pipe cleaners
Plastic skeletons
Plastic bugs
Plastic Pumpkins
Halloween cups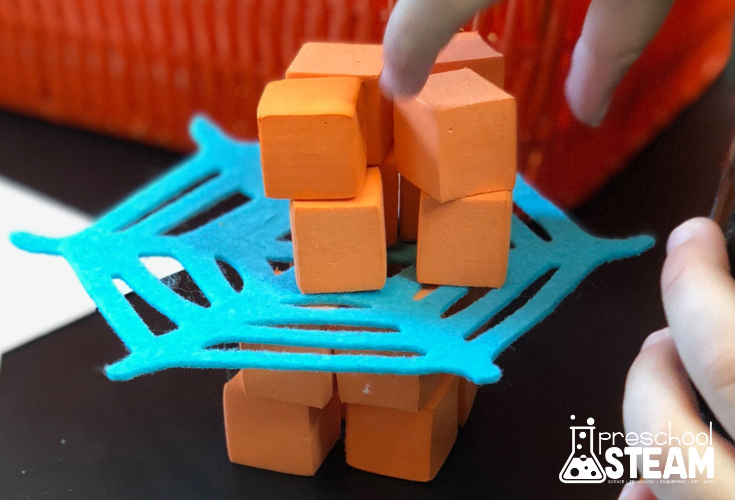 Listen to what stories your learner's tell or what questions they ask as they interact with Tinker Tub materials. Use these observations to extend the 5-Star STEAM Experience.