STEAM Storytime is our popular series of quick innovation challenges inspired by your favorite picture books.
The Grumpy Easter Bunny written by Justine Korman is about a little bunny named Hopper. Hopper is one grumpy Easter bunny! Why should he have to work all year making chocolate eggs, filling marshmallow chicks, and rolling thousands of jelly beans, then hop all over the place delivering the goodies? So one Easter morning, Hopper decides to do something different – with disastrous results! Then he finds the true meaning of Easter.
If you don't have access to the book you can watch a read aloud here:

To create a fun and engaging STEAM activity all you need are some plastic eggs and playdough or clay.
STEAM Question: How many eggs can you balance for Hopper?
Objective: Students will explore the concept of balance with plastic eggs. 
Materials: 
The "Grumpy Easter Bunny", by Justine Korman.
Plastic eggs
Playdough or Clay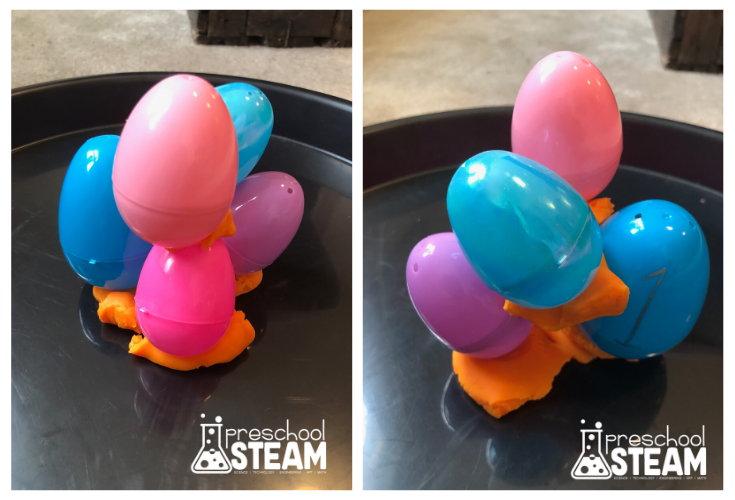 Teaching Strategy:  
Read "The Grumpy Easter Bunny".  How did Hopper's feelings about Easter change in the story?
Use play dough and plastic eggs to see how many eggs you can balance in a pile for Hopper.
How can you stack the eggs together and keep them from rolling away?
Count how many eggs you stacked. 
Compare the different sizes of egg piles in your class.  
Guiding Questions: 
Where have you seen Easter eggs?
How did  Hopper feel after he gobbled all the treats?  
How can you bring joy to others like the bunnies in the story who hid eggs for the forest animals to find?  
Where or when have you hunted for eggs?
STEAM Experience:
Science: How far can you roll an egg, like the strawberry-cream filled egg that rolled down the path outside Hopper's burrow.
Technology: What can we use to move the eggs, as Hopper did in the story with his wheelbarrow? (dump truck, scooter, etc).
Engineering: Construct a hill similar to the one outside Hopper's burrow.  Roll eggs down the hill. 
ARTs: Easel paint an easter egg or paint a hardboiled egg with a thin brush. 
Math: Count how many eggs you can balance on a "wheelbarrow" or another toy with wheels.
The full written lesson is available for download inside the Member Lab.