Activities that use shapes provide lots of STEAM learning opportunities for kids. Promote exploration and discovery with these fun hands-on activities!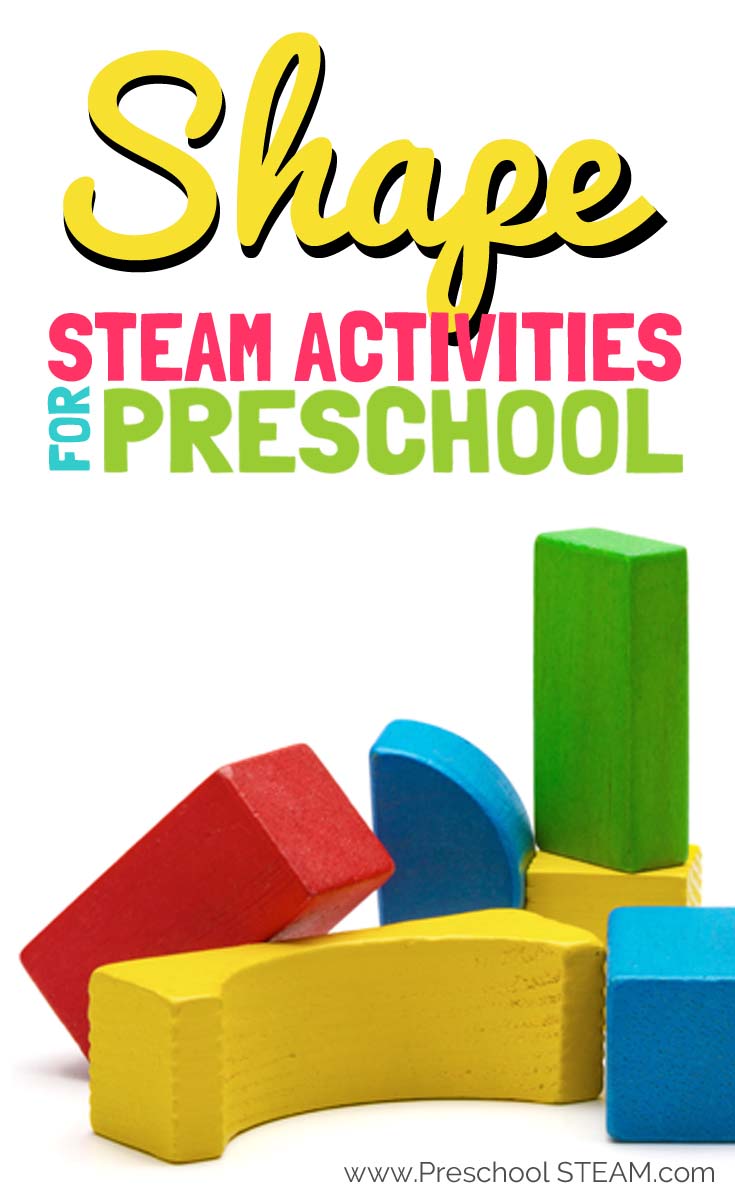 Kids can learn about the properties of shapes with this roundup of over 20 activities. Get ready for some amazing STEAM with these hands-on crafts and activities, including a shape train, an art book and DIY geoboards!
Shape STEAM: Crafts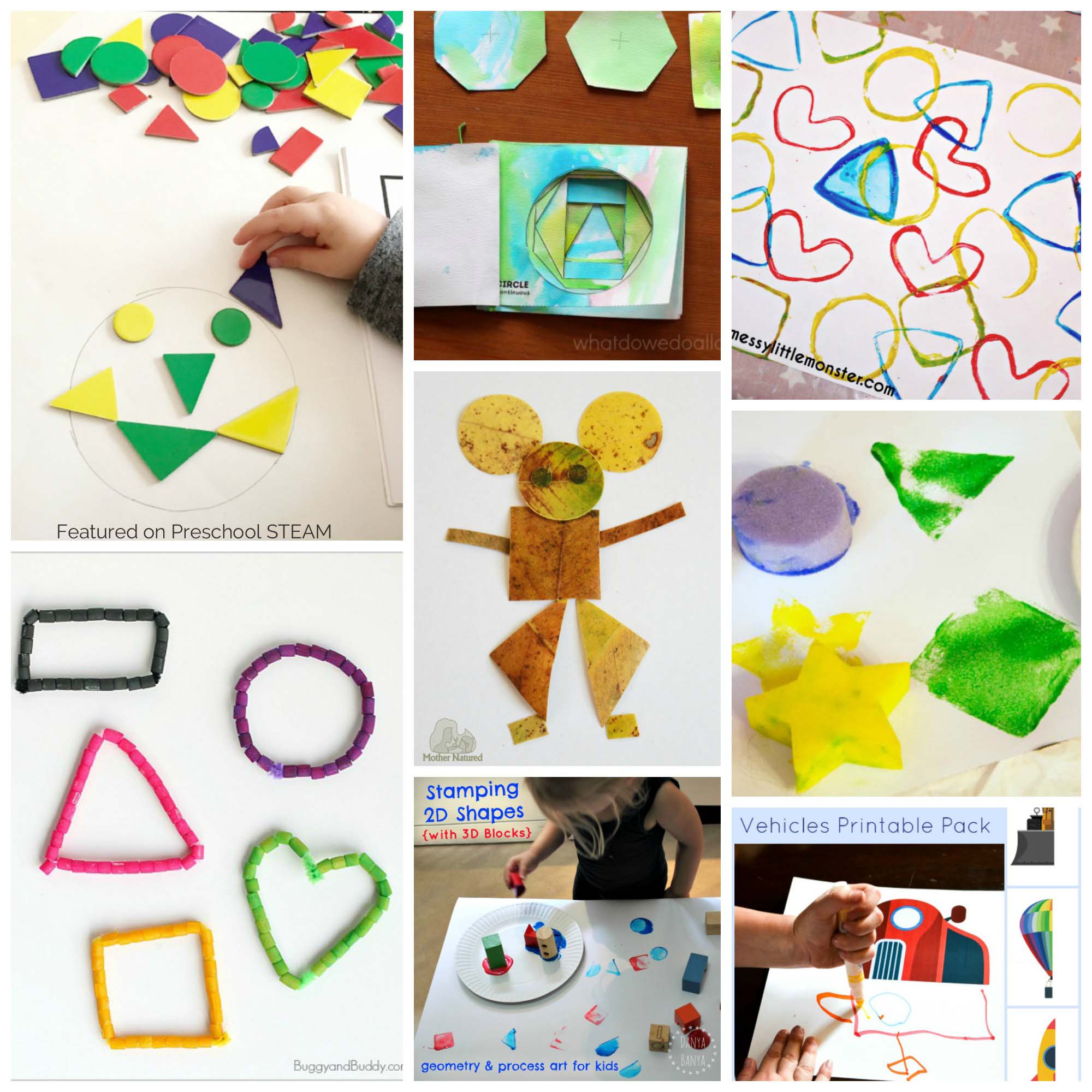 Shapes Busy Bag | Artsy Momma: Art and science combine when you give kids assorted shapes to design and build a robot.
Shape Necklace | Buggy and Buddy: Count the sides of the shapes you make with colorful pasta in this lacing activity.
2D Shape Painting | Messy Little Monster: Painting tools are fun to make with recyclables and offer lots of opportunities to explore and learn shapes.
Shape Train | The Moments at Home: Invite kids to use circles and triangles and more to build a train chugging down the track.
Draw the Missing Half | Adventure in a Box: Kids learn basic shapes and counting as well as symmetry, in this fun art activity with vehicles.
Invitation to Create Shape Pictures | Days With Grey: This fun kid-led activity prompts kids to name shapes, draw shapes, and model shapes.
Leaf Shape Play | Mother Natured: Simply provide leaves cut into various shapes, add craft tools such as glue and scissors and paper, and watch kids get creative with designs and patterns.
Geometry Art Shape Stamping | Danya Banya: Get creative with geometry in this process art activity.
Shapes Activity for Kids | Love Play and Learn: Compare characteristics of shapes in this fun painting activity with sponges.
Shape Art Book | What Do We Do All Day: Kids can create their own shape books to explore and learn all about shapes while combining various elements of STEAM including technology, engineering, and art!
Circle Art Process Painting | Cutting Tiny Bites: How many sizes of circles can you make in your painting? Will they overlap? This art activity promotes creative design with the placement of shapes.
Shape STEAM: Activities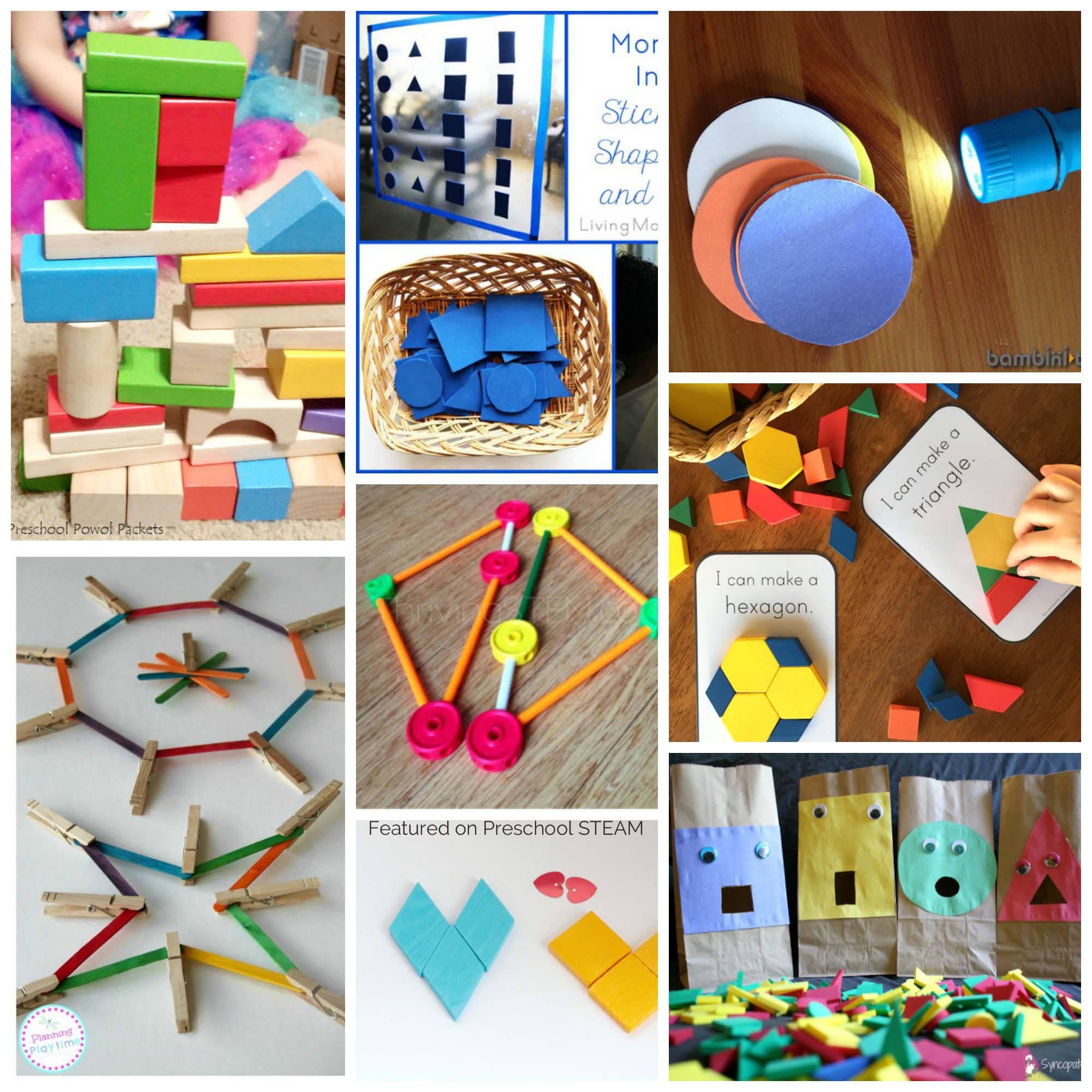 Finding Circles | Bambini Travel: Use technology in a shapes scavenger hunt by searching with a flashlight.
2D Shape Challenge Cards | You Clever Monkey: Colorful shape templates offer opportunities for kids to problem solve independently.
Pattern Block Hearts Geometry Challenge | Schooling a Monkey: Engage logic, math and so much more in this creative block challenge.
Preschool STEM With Blocks | Preschool Powel Packets: This activity can easily be included in our roundup by counting and building with colorful blocks for the Art component of STEAM.
Have You Seen My Monster | Syncopated Mama: Turn paper bags into shape monsters with this simple craft and activity that combines math, art and technology for STEAM fun!
Popsicle Stick Geometry Challenge | Planning Playtime: Engineering 3D shapes with sticks and clothespins is just part of the challenge in this fun STEAM activity!
Teach Geometry Through Play | Thriving Stem: Discover that all triangles do not look the same!
Montessori Inspired Sticky Paper Shape Sorting | Sticky paper is a creative platform for kids to count, sort, and build with shapes.
Clothespin Geometry | K C Edventures: Kids can explore math and geometry as they practice counting, adding, and making shapes with clothespins.
Straw & Circle Paper Planes | Red Ted Art: Make gliders with two simple materials and watch how far they fly!
Making Shapes with Colorful Feathers | Preschool Toolkit: Outline simple shape templates with colorful feathers for a math activity with an artistic twist.
Shape STEAM: Geoboards
Geoboard STEAM Activity | Little Bins for Little Hands: Recycle some styrofoam for an amazing low-cost geoboard that will provide hours of STEAM fun for little engineers!
DIY Travel Geoboard | Left Brain Craft Brain: Make this portable geoboard so you can take your geometry challenges with you when you travel.
DIY Lite Brite Geoboard | There's Just One Mommy: Kids can easily make shapes on this geoboard made by repurposing another popular toy.
These fun projects show how easy it is to include STEAM in your daily activities. Explore and discover with your child in this amazing learning adventure!