Easy Apple Science Experiments for Preschoolers
Apples are more than just yummy treats; they're also great for helping young kids learn. They can be used in fun activities that teach STEAM subjects—Science, Technology, Engineering, Art, and Math.
Plus, these activities help preschoolers practice important skills like being curious, thinking creatively and critically, talking about what they learn, and working well with others. Whether your young learner likes sorting apples by color or guessing which ones will float in water, there's an apple activity for everyone. Keep reading to find easy and fun apple experiments that help kids learn in all sorts of ways.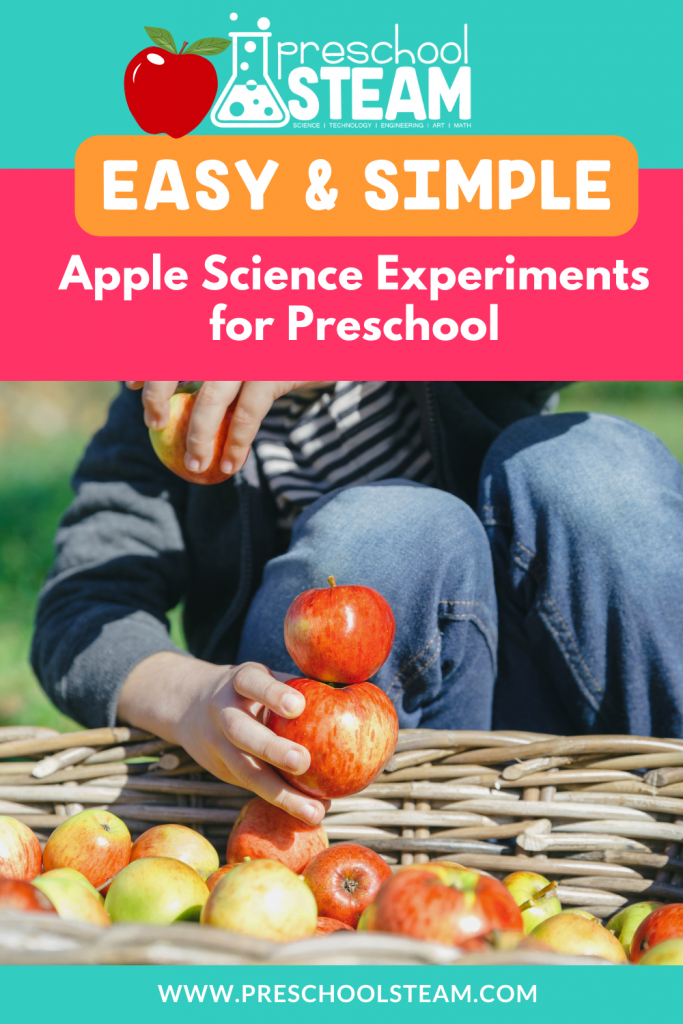 ---
Apple Volcano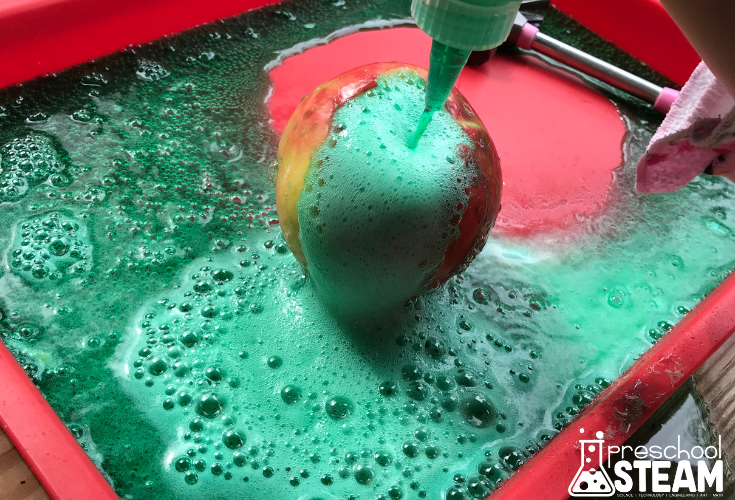 What You Need
An apple
Baking soda
Food coloring (optional)
Vinegar
How It Works
Carve a small hole at the top of the apple.
Fill it with baking soda and add a drop or two of food coloring if desired.
Pour vinegar into the hole.
Watch the fizzy, colorful explosion!
This experiment demonstrates a basic chemical reaction and is an excellent way to introduce preschoolers to science.
How to Make it a 5-Star STEAM Experience:
⭐️ Curiosity
This hands-on experiment naturally piques children's curiosity as they watch a simple apple transform into a frothy, erupting volcano. The activity encourages them to question and explore the basics of chemical reactions and color mixing in a tangible way.
⭐️ Creative Thinking
The use of food coloring adds an artistic twist to this science experiment. Children can make predictions about what color the eruption will become when colors mix. They also get to think creatively about how to "design" their apple volcano with color patterns.
⭐️ Critical Thinking
Apple Volcano offers an opportunity for children to develop their problem-solving and reasoning skills. They can hypothesize what will happen when baking soda and vinegar mix, and then compare their predictions to the actual outcome. This sets the foundation for basic scientific thinking.
⭐️ Communication
This activity provides ample opportunities for discussion. Whether they're describing what they see, expressing surprise, or sharing their thoughts on what might happen next, the Apple Volcano experiment fosters verbal expression and vocabulary growth around scientific terms like "reaction," "eruption," and "mixture."
⭐️ Collaboration
While the experiment can be performed individually, it can also be a collaborative effort. Children can work in pairs or small groups to prepare the apple, add the ingredients, and observe the outcomes. This group setting helps children practice teamwork, sharing responsibilities, and discussing their observations collectively.
The Apple Volcano experiment effortlessly combines elements of science, art, and social interaction, making it a holistic STEAM activity that ticks all 5-Stars: Curiosity, Creative Thinking, Critical Thinking, Communication, and Collaboration.
---
Floating Apples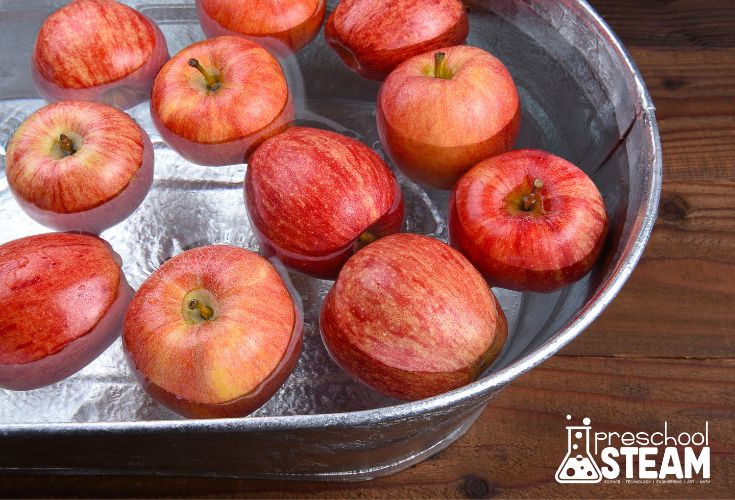 What You Need
A tub of water
Various types of apples
Optional: other fruits for comparison
How It Works
Fill a tub with water.
Ask your child to predict which apples will float.
Place different types of apples in the water and observe.
This simple experiment introduces the concept of buoyancy and density. It's a great way to inspire curiosity about why some objects float while others sink.
How to Make it a 5-Star STEAM Experience:
⭐️ Curiosity
The Floating Apples experiment engages children's natural curiosity by challenging their preconceived ideas about buoyancy and weight. By predicting which apples will float or sink, kids become eager to test their hypotheses and discover the results.
⭐️ Creative Thinking
Adding optional fruits for comparison brings a creative dimension to the experiment. Children can think outside the box, contemplating how various fruits might behave differently from apples in water and why. This encourages them to consider variables like size, shape, and density in a creative way.
⭐️ Critical Thinking
This simple experiment introduces children to the scientific method at a basic level. They'll make predictions, test their ideas, and analyze the outcomes. They'll also begin to understand concepts like buoyancy and density, which lays a foundation for more complex scientific reasoning as they grow older.
⭐️ Communication
The experiment offers several opportunities for discussion, from predicting outcomes to describing observations. Children can learn new vocabulary like "float," "sink," "density," and "buoyancy," and practice using these terms in context. They can also share their predictions and results with others, fostering communication skills.
⭐️ Collaboration
Floating Apples is an ideal activity for teamwork. Whether in pairs or in small groups, children can take turns placing apples in the water and sharing their observations. This encourages them to listen to their peers' predictions and conclusions, teaching them valuable collaborative skills like taking turns and shared problem-solving.
---
Apple Sorting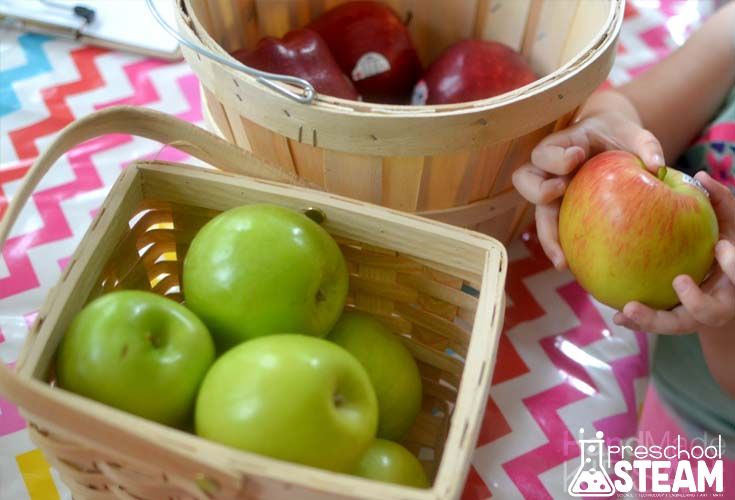 What You Need
Different types of apples
Sorting trays or bowls
How It Works
Provide a variety of apples.
Ask your child to sort them by size, color, or type.
Count the number of apples in each category.
This activity incorporates both math and science. Sorting is an essential scientific skill of classification, and counting the apples in each category brings in a mathematical aspect.
How to Make it a 5-Star STEAM Experience:
⭐️ Curiosity
The activity begins with a variety of apples, each with its unique characteristics, thereby sparking children's natural curiosity. They'll wonder why some apples are red while others are green or why some are large and others small. This provides an excellent opportunity to explore these differences more deeply.
⭐️ Creative Thinking
Sorting apples can be done in numerous ways—by color, size, or type—allowing children the freedom to choose their categorization method. This encourages them to think creatively about how they can group the apples and what each category represents.
⭐️ Critical Thinking
This activity introduces basic skills in categorization, a foundational concept in mathematics, and critical thinking. Children have to examine each apple's attributes closely to determine where it fits best. This cultivates attention to detail and analytical thinking, as children weigh different characteristics to make their decisions.
⭐️ Communication
Apple Sorting offers abundant opportunities for verbal expression. Children can articulate their sorting criteria and explain their reasoning behind each category. This develops vocabulary, as they learn the words for different colors, sizes, and types, and promotes effective communication skills.
⭐️ Collaboration
Though it's an activity that can be done individually, Apple Sorting can also be made collaborative by involving multiple children. They can work together to decide the sorting criteria, place the apples in the correct trays or bowls, and count them. This fosters team skills, such as negotiation and consensus-building.
---
Each of these activities offers a different avenue for STEAM learning, all inspired by the apple. The key to these experiments is not just the activity itself but the questions you ask and the conversations you have before, during, and after the experiment. Ask your child to predict outcomes, explain their reasoning, and describe what they observe. This will stimulate their curiosity, develop their problem-solving skills, and foster a lifelong love for learning.
So the next time you find yourself with a curious preschooler and a few apples to spare, you'll know exactly what to do. Happy experimenting!