Recycle some cardboard for this STEAM opportunity that combines coloring and constructing in an activity kids will love. Challenge your young scientist to explore and create while having fun experimenting with interlocking cardboard pieces.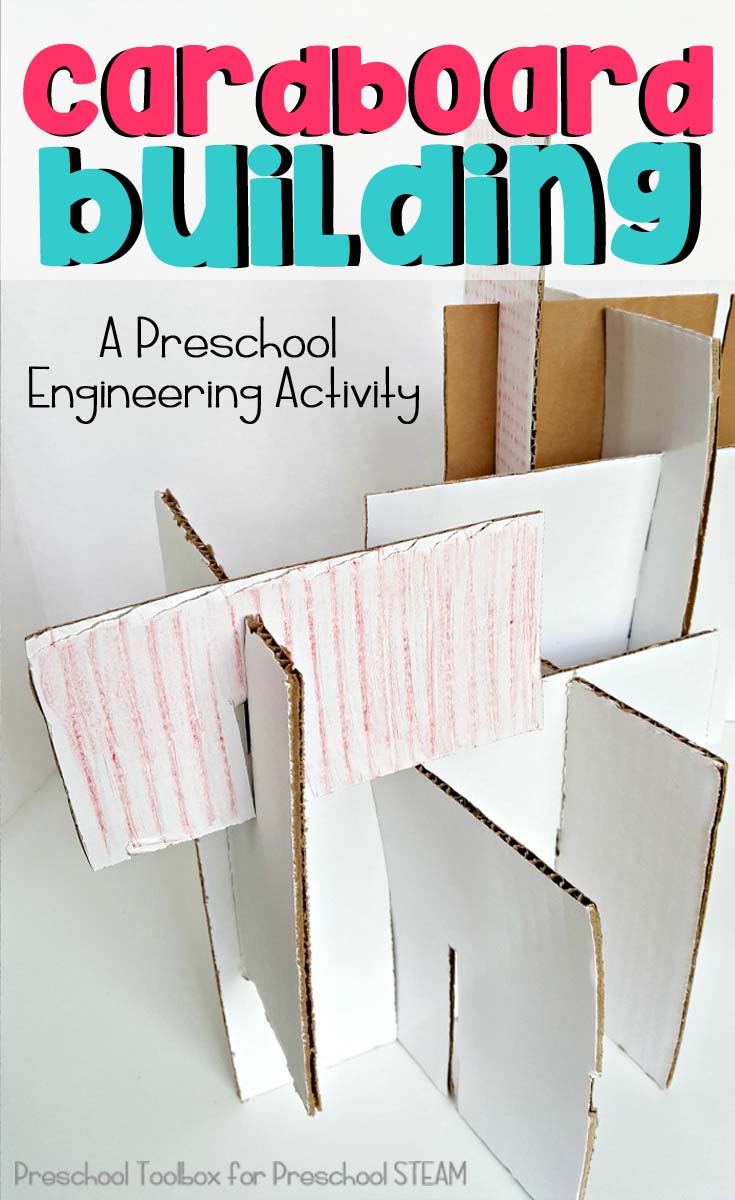 This activity combines creativity with scientific thinking. Kids can color, cut and assemble cardboard pieces in a variety of ways, exercising fine motor and language skills as they incorporate STEAM components.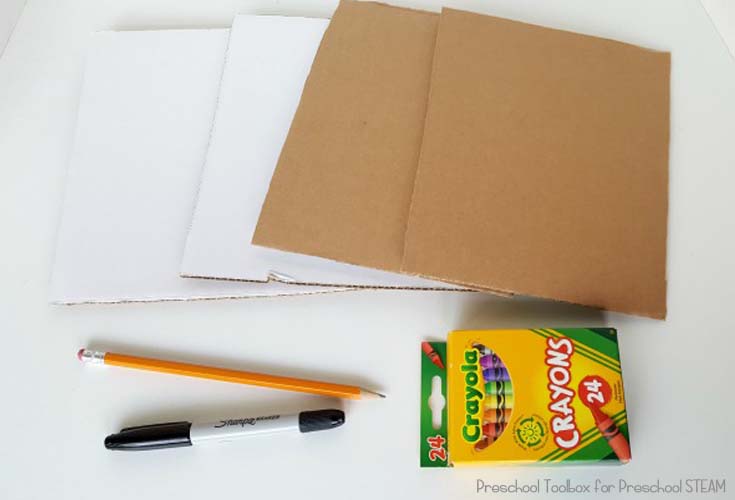 Materials:
cardboard
crayons or markers
scissors
pencil
Use white or brown cardboard, whatever you have on hand. A combination of both will provide an opportunity for interesting artistic layouts and patterns.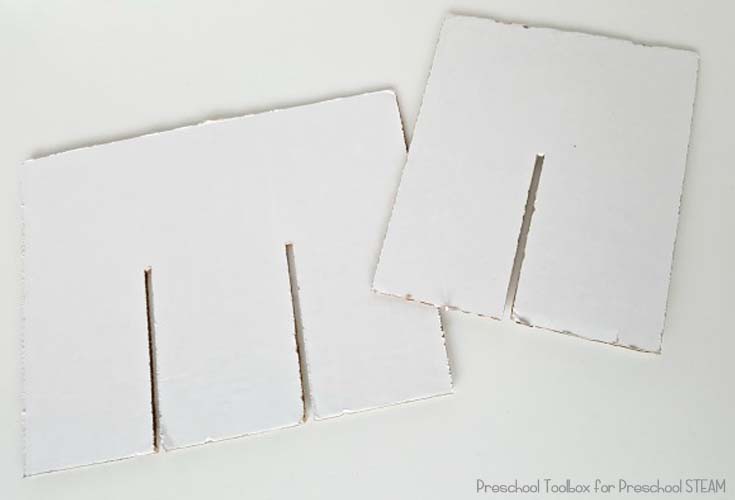 The cardboard pieces that inspired this STEAM activity were included in a packing box. They are corrugated cardboard pieces that measure 4 in. x 5 in. (10 cm x 13 cm) and 5 in. x 7 in. (13 cm x 18 cm). They are used as templates to create other pieces that can interlock. You can easily make different sizes to provide more building options.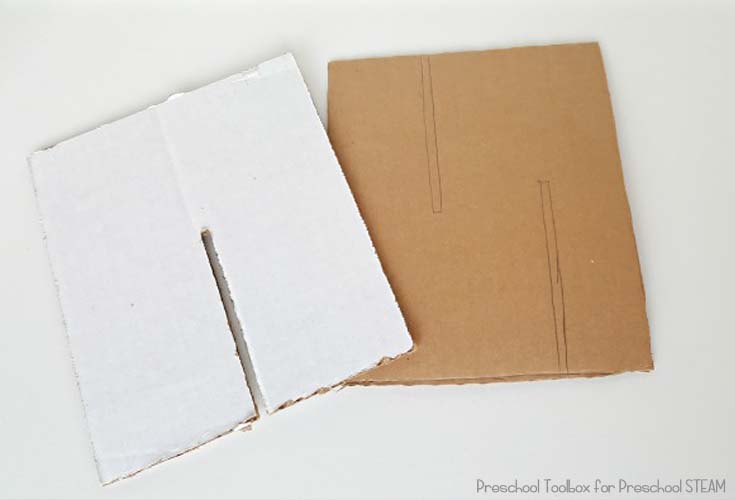 Cut notches measuring 5 inches in length by 1/4 inch wide (13 cm x .5 cm) in the cardboard pieces.
Color the pieces with crayons or create designs with markers. If you are using corrugated cardboard, you will notice how the crayon markings result in light and dark lines.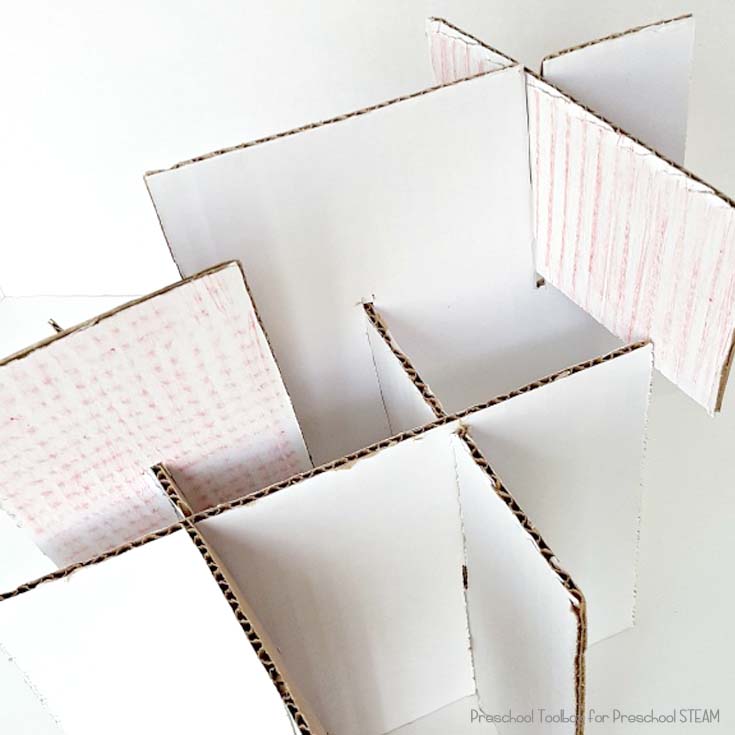 Scientific process:
Ask: How can these pieces go together? Can these pieces by used for building something?
Hypothesis: The notches will hold the pieces together. We can build a castle!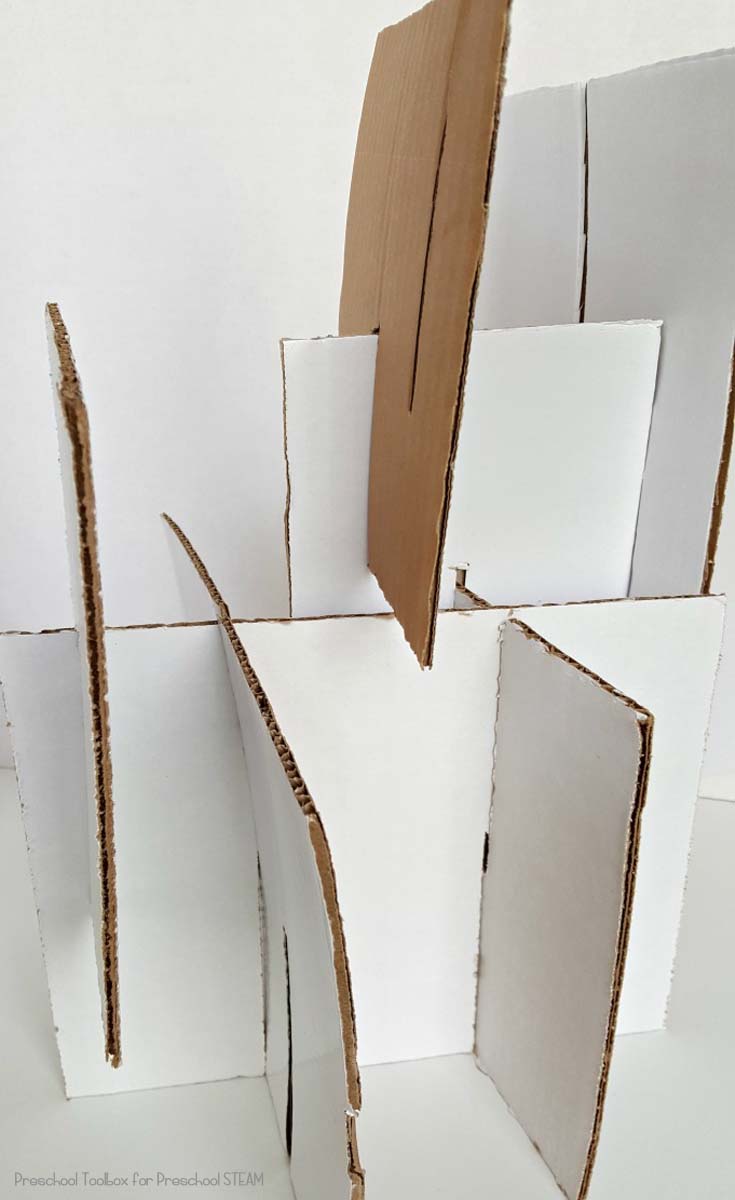 Observation: Notice the different ways you can add pieces to build a structure. How did you create a stable base on which to build? Can you build up as well as out to the sides? What causes the structure to tip over?
Conclusion: There are many ways to combine the interlocking pieces, both vertically and horizontally. A good base is required to keep the structure steady. This can be achieved using the larger pieces. There is lots of artistic opportunity in this activity: draw windows and doors for the castle, or use a different color for each cardboard piece.
STEAM Integrations:
Science: Observe and record the weight and thickness of cardboard
Technology: Use a ruler to measure the length and width of the notches.
Engineering: Build with the cardboard pieces.
Art: Try painting or coloring your cardboard pieces
Math: Count how many cardboard pieces you used in your building creation.
This is an easy STEAM activity to set up for kids, and one that allows them to engage with the materials with minimal guidance. Kids learn through play by employing the principles of STEAM hands-on as they experiment with cardboard interlocking pieces!
---