As the school bells chime again and the excitement of a new academic year fills the air, try this STEAM-inspired coding game activity to get your preschoolers engaged and learning. This STEAM activity is the perfect blend of categorization and an introduction to the thrilling world of coding!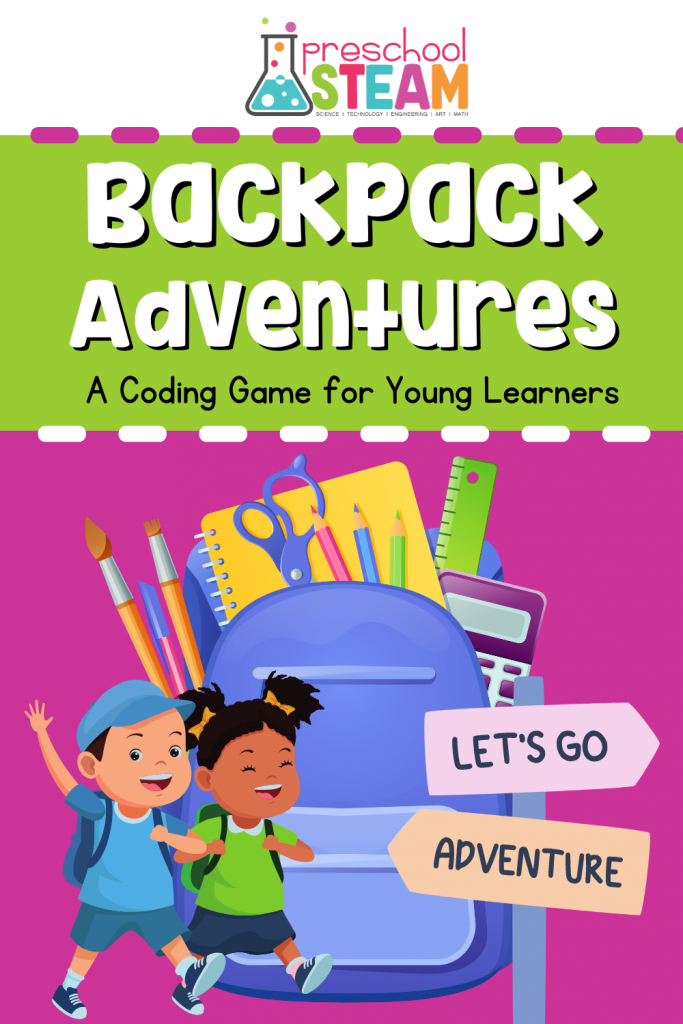 What's the Goal? 🎯
The aim of the Backpack Sorting Game is:
Enhance childrens' categorization skills by getting them to sort objects into the correct thematic backpacks.
Introduce basic coding concepts as children will be guiding a "robot" to these categorized backpacks using simple directional cards.
---
Gathering Your Gear 🎒
Here's a quick checklist of what you'll need:
Labeled backpacks (think themes like "School Supplies," "Lunch," or "Clothes").
A mix of small objects/images representing items (pencils, apples, socks).
A large grid on the floor or paper (We like to use a shower curtain or plastic tablecloth to make a reusable grid)
Basic coding cards with arrows (indicating directions like up, down, left, and right).
---
How to Play? 🕹️
Setting the Stage: Arrange the labeled backpacks at different points on the grid.

Let's Sort!

Introduce students to the backpack categories.
Have each student pick an item, deciding which backpack it should go into.
Discuss why each item fits in its chosen category.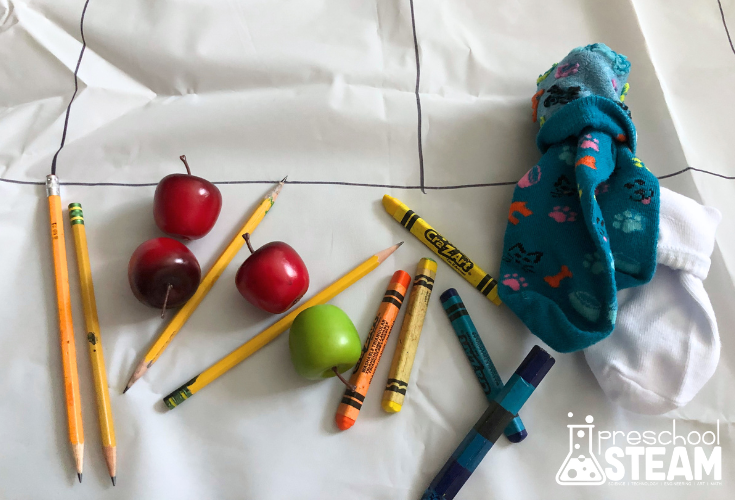 Introduce Coding: 

Explain coding simply as giving specific instructions to achieve a task. 
Present the coding cards, demonstrating what each arrow symbolizes in terms of movement.

How the Game Works: 

Working in pairs, one child will be the "robot," and one child will be the "programmer." Mark the "robot's" starting point on the grid.
Challenge the "programmer" to use the coding cards to create a pathway to guide the "robot" to their chosen backpack. 
The "robot" will move based on the cards the "programmer" lays down. This step brings their coding to life! 
Encourage the "programmer" to guide the "robot" to different backpacks, tweaking codes as they go.
After a few coding adventures, have the children swap roles and play again.

Reflection Time: 

Regroup and reflect. Chat about the categories, the items they sorted, and their feelings about steering the "robot."
Watch the video below for a visual walkthrough of how to play the coding game.
---
Why We Love It: 5-Star STEAM Experience
Science: Dive into the classification of items based on properties.
Technology: Introduce algorithmic thinking, the foundation of computer science.
Engineering: Let students craft a pathway for the robot, boosting problem-solving skills.
Art: With visual backpack designs and card arrangements, creativity is front and center.
Math: Categorizing items and navigating the grid taps into classification and spatial reasoning.
To wrap up, the Backpack Sorting Game is a delightful way to blend hands-on learning with critical thinking. It's a journey of exploration, creativity, and problem-solving – all wrapped up in one fun activity!
Dive in, enjoy, and watch as your students embark on their coding adventures.
Want more Fun? Try These Additional Coding Games
Screen-Free Brown Bear Coding Game for Preschoolers